Jack Hirshleifer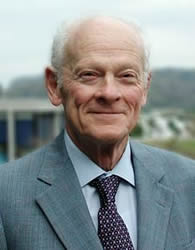 Education:
Ph.D. Harvard University
Research Areas:
Economic analysis of conflict; bioeconomics with particular reference to sources of cooperative behavior and the nature of evolutionary equilibrium; voluntary provision of public goods.
Biography:
Jack Hirshleifer, professor emeritus of economics, died July 26, 2005, bringing to a close a career marked by wide- ranging interests and brilliant contributions to the subfields of information economics, investment and capital theory, bioeconomics, and the economic theory of conflict.
After active duty in the U.S. Naval Reserve during World War II, Hirshleifer completed his A.B. degree at Harvard, magma cum laude. Five years later he had earned his doctorate in economics, also at Harvard. From 1949 to 1955 he worked as an economist at the Rand Corporation. Before coming to UCLA in 1958, he took a postdoctoral fellowship in statistics and economics at the University of Chicago where he also taught for five years.
His extensive publications included seven books and close to a 100 scholarly articles. From his first study, Water Supply: Economics, Technology, and Policy [Chicago, 1960] to The Dark Side of the Force: Economic Foundations of Conflict Theory [Cambridge, 2001], Professor Hirshleifer in his scholarship has demonstrated a clarity of analysis and probing for fundamental assumptions which set him apart as one of the most distinguished economists of his generation.
Elected a fellow of both the American Academy of Arts and Sciences and the Econometric Society, Professor Hirshleifer also served on the editorial boards of the American Economic Review, the Journal of Economic Behavior and Organization, and the Journal for Bioeconomics. In 2000 he was elected a Distinguished Fellow of the American Economic Association. He also served as president of the Western Economic Association and as vice- president of the American Economic Association.
Professor Hirshleifer was deeply respected by all his fellow faculty members during his 33 years as a member of the UCLA economics department. His door was always open for any colleague, graduate student or undergraduate who might feel like "popping- in." While a giant among researchers, Professor Hirshleifer was also deeply committed to the teaching of economics. As a teacher he always strove to give his students a sense of his own deep fascination with the role of competitive markets. This led him to write a revolutionary and best- selling textbook in intermediate microeconomics, Price Theory and Applications. While prior books focused on modeling and theory, the new text added dozens of intriguing real world illustrations of economics forces at work. Through his own text- book and through the many texts that have copied his approach, Professor Hirshleifer continues to influence tens of thousands of undergraduates each year.
By Joyce Appleby
Selected Books and Publications
<!- View not found ->
---
Research Interests
https://economics.ucla.edu/wp-content/uploads/2019/03/Uxd_Wht_Economics_A-1030x286.png
0
0
webteam
https://economics.ucla.edu/wp-content/uploads/2019/03/Uxd_Wht_Economics_A-1030x286.png
webteam
2016-11-21 15:30:14
2016-11-29 14:36:15
Jack Hirshleifer