George Murphy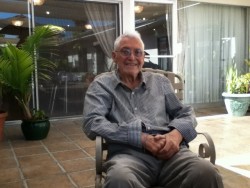 Education:
Ph.D. University of Washington
Research Areas:
Necessary conditions for the rise of economic complexity, and the sources of patterns and stabilities in economic analyses of that complexity. Analysis of the impact of foreign ownership on the U.S. political economy.
Biography:
George Murphy, a longtime UCLA economics professor with a passion for singing, died Jan. 2 of natural causes and health complications due to diabetes. He was 90.
Beyond his work at UCLA, Murphy was a World War II veteran who stormed Gold Beach on D-Day and an amateur opera singer who pursued his passion to the Hollywood Bowl dressed in a tuxedo to sing in front of 8,000 people.
Murphy was born in Bristol, England in 1924 to John and Martha Murphy and joined the British army at the age of 18. He served through the end of World War II as a radio signaler and took over as a stretcher-bearer on D-Day, said his daughter Holly Van Husen.
"For him because (the war) was so much closer, his city was getting bombed, (joining the army was) just what everybody did," Van Husen said. "It affected his entire life. … It shaped who he was and how he looked at the world."
After the army discharged him in 1947, one of Murphy's military advisors encouraged him to pursue economics at a university, though Murphy often said his real reason for studying economics was to avoid taking Latin again, said his son Greg Murphy, laughing.
Murphy planned to go into British politics after graduating from the University of Bristol, but a teaching assistant offer at the University of Oregon brought him to the United States in 1950. He received his doctorate in economics from the University of Washington soon after.
Starting at UCLA in 1961 as an assistant professor of economics, Murphy specialized in comparative systems, economic history and socialist theory. He transitioned to a professor emeritus status in 1993 and taught his last class in winter quarter of 2010, said Nancy Blumstein, UCLA Department of Economics chief administrative officer.
Blumstein said Murphy's kindness was immediately noticeable to his coworkers at UCLA.
"(Murphy) was a sweetheart," Blumstein said. "He always stopped by and said hello to everyone."
Murphy worked to analyze economics in countries around the world during the Cold War. His expertise on European economics gave him the opportunity to travel to many places, including the former Soviet Union and Mongolia, Greg Murphy said.
On the West Coast, Murphy found his love for sailing, Greg Murphy said.
He would go sailing on weekends in Santa Barbara when he was teaching at Stanford and UCLA, Van Husen said, often bringing his children along so they could share in the experience.
Whether he was recounting a past event or making up tales for his children, Murphy was a creative storyteller, Van Husen said. She said she remembers her father coming up with elaborate plots, once telling a story about a wizard with a helicopter over dinner.
He also kept up several small traditions within the family, such as bringing back special trinkets after long trips or taking his children swimming at the UCLA Sunset Canyon Recreation Center.
He also enjoyed spending time with his grandchildren, joking around with them and taking them to a 99 cent store, Van Husen said.
"He was a great grandfather to my kids," Van Husen said. "They would be kids together, he would get them ice cream for breakfast and would spoil them."
For the last few decades of his life, Murphy participated in amateur opera companies so he could follow one of his truest passions – singing.
"He liked being on stage," Greg Murphy said. "He enjoyed the hell out of it."
The pinnacle of his amateur opera career came when he was invited as part of the chorus to perform at the Hollywood Bowl for an 8,000 person audience.
His love of singing followed him throughout his life, Greg Murphy said.
"He was in a care facility and I would take opera music for him to listen on headphones and he would sing like crazy," he said.
The sound of Murphy's singing reverberated down the halls, his son said.
"People would come running," he said. "He could shake the room when he started singing."
Murphy is survived by his wife Joanne, his children Holly van Husen, Patrick Murphy and Greg Murphy, and his seven grandchildren. No funeral services have been arranged.
Selected Books and Publications
<!- View not found ->
---
Research Interests
https://economics.ucla.edu/wp-content/uploads/2019/03/Uxd_Wht_Economics_A-1030x286.png
0
0
Joe Luk
https://economics.ucla.edu/wp-content/uploads/2019/03/Uxd_Wht_Economics_A-1030x286.png
Joe Luk
2016-10-19 14:17:57
2021-03-15 21:58:46
George Murphy