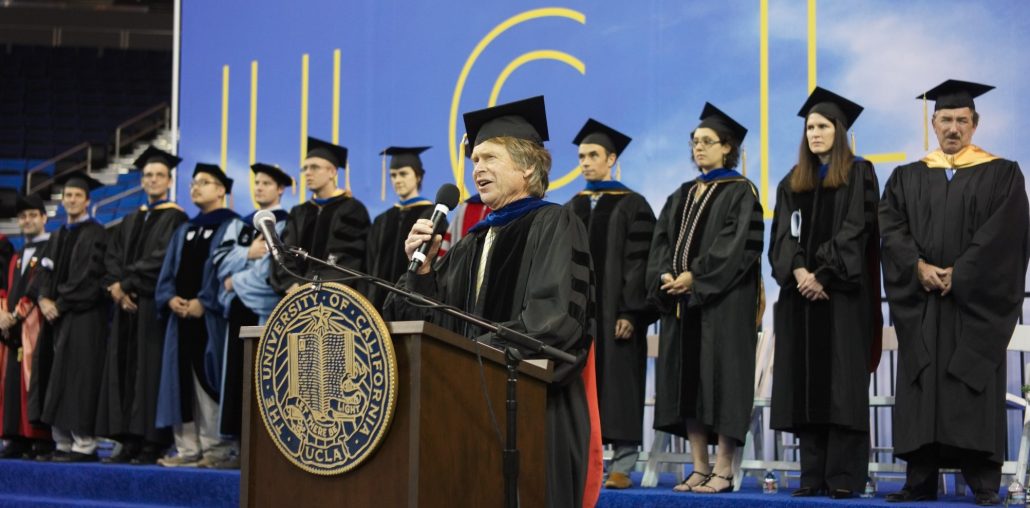 Commencement, 2019
The Department of Economics Commencement Ceremony will take place on Saturday, June 15, 2019 at 6:00 pm in Pauley Pavilion.
Students need to complete the First Destination Survey to pick up a name card.  This is required for your name to be called at the Ceremony.
Details about the survey will be available in Spring 2019.
For the day of the ceremony, you will retain your name card until you are about to go on stage during the name recognition portion of the ceremony at which time you will hand it to the faculty member reading names at the lectern on the floor to the side of the stage.
You will then cross the stage to be congratulated by another faculty member before exiting the stage via the steps on the front of the stage.
Professional photographers will be present to take a photo before you go on stage and while you are on stage during the general name recognition portion of the ceremony. Proofs will be available electronically and you can then order the photos that you like.
Once tickets have been ordered, students can pick them up at the UCLA Central Ticket Office (at the end of the James West Alumni Center).  The phone number is 310-825-2101.  For a campus map, please visit: http://maps.ucla.edu/downloads/
Additional instructions about the Economics Commencement Ceremony will be forwarded to students via the Undergraduate Economics SSC CCLE website.  Please make sure that you have added yourself to this website in order to receive all Commencement Emails.
If you have any questions about the Economics Commencement Ceremony, please contact us via the MyUCLA Message Center, which can be found at  http://economics.ucla.edu/undergraduate/contact-us/
You may also visit us in 2263 Bunche Hall or call us at 310-825-5118.
For a degree and graduation checklist – please review the information posted here.
Information about the Commencement Ceremonies for the College of Letters & Science can be found on the website below:
http://www.college.ucla.edu/commencement/
******************************************************
Keynote Speaker – Lloyd Greif '77, President & CEO, Greif & Co.
Lloyd Greif is an internationally recognized authority in the field of mergers & acquisitions and corporate finance.  He founded Greif & Co., the entrepreneur's investment bank, in 1992. Previously he was Vice Chairman of Sutro & Co., where he was head of the investment banking division and a member of the five-person Management Committee that ran the firm.  He has served on many philanthropic boards and his service to the city of Los Angeles includes being past chair of the Los Angeles Business Tax Advisory Committee.