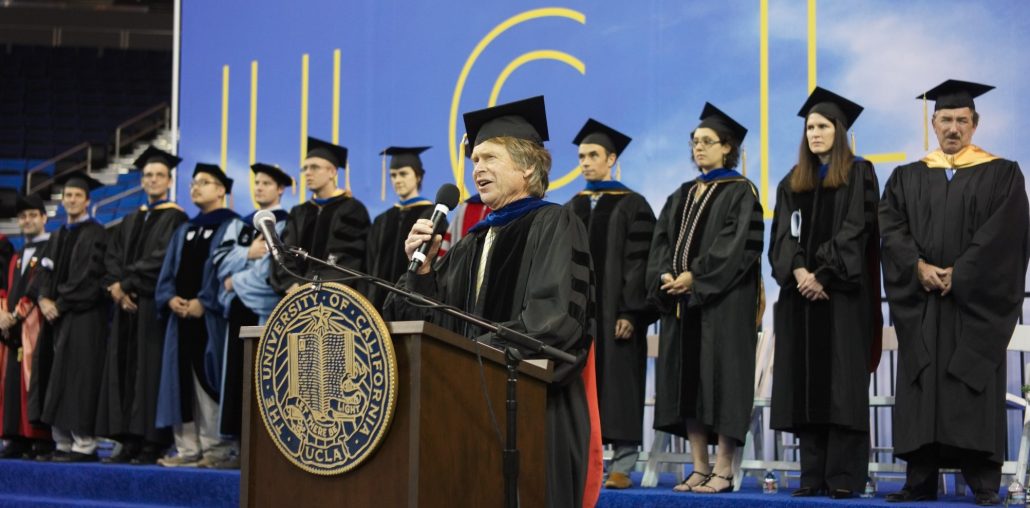 Department of Economics Commencement 2019
The Department of Economics Commencement will take place on Saturday, June 15, 2019 at 6:00 pm in Pauley Pavilion.
Participants should plan to arrive at the UCLA Tennis Center for line-up between 5:00 pm and 5:15 pm.
The doors to Pauley Pavilion will open for guests at 5:00 pm.
Guest Tickets and Participant RSVP
If students have not RSVP'd regarding attendance and/or have not ordered tickets for the Economics Commencement, it is not too late. Student requests can still be submitted via the MyUCLA Message Center. Please follow the instructions sent via the Economics Counseling Listserv on 5/20/19.
Each graduate may order up to ten (10) guest tickets, with a maximum of thirty (30) wait-listed tickets.
The first four (4) guest tickets are complimentary but still must be ordered.
Each additional ticket beyond the complimentary four (4) is $12.
All guests need tickets, however, each graduating student participating in the ceremony does not.
Once tickets have been ordered, students can pick them up beginning on May 28 at the UCLA Central Ticket Office (on the west side of the James West Alumni Center). For a campus map, please visit: http://maps.ucla.edu/downloads/.
More information about ticket pick-up can be found at https://www.college.ucla.edu/commencement/ticket-ordering/#pickup.
******************************************************
Additional instructions about the Economics Commencement will be forwarded to students via the Economics Counseling Listserv. Students should add themselves to this listserv in order to receive all Commencement emails.
If students have any questions about the Department of Economics Commencement, please contact the Economics undergraduate counselors via the MyUCLA Message Center.
Students may also visit the Undergraduate Counseling Office in 2263 Bunche Hall.
Information about the College Commencement can be found at http://www.college.ucla.edu/commencement/
For a degree and graduation checklist, please review the information posted here.
******************************************************
Keynote Speaker – Lloyd Greif '77, President & CEO, Greif & Co.
Lloyd Greif is an internationally recognized authority in the field of mergers & acquisitions and corporate finance.  He founded Greif & Co., the entrepreneur's investment bank, in 1992. Previously he was Vice Chairman of Sutro & Co., where he was head of the investment banking division and a member of the five-person Management Committee that ran the firm.  He has served on many philanthropic boards and his service to the city of Los Angeles includes being past chair of the Los Angeles Business Tax Advisory Committee.