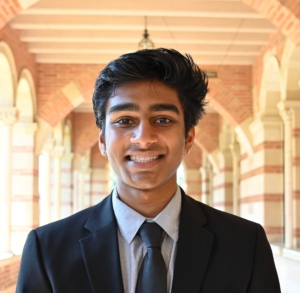 Biography: Aravinth Ruppa, a second-year undergraduate student from the central coast of California, is currently majoring in Economics with a pre-medicine focus. He intends to pursue a double major in Microbiology, Immunology & Molecular Genetics. He plans to blend his unique background in economics and medicine to bring about positive impact on the healthcare industry to improve access to care for all patients. Aravinth is also a 3rd degree black belt in Karate and has been practicing martial arts for the last 14 years. In his free time he enjoys playing soccer, hiking, and going to the beach. Aravinth looks forward to continuing to explore Los Angeles and try all the different types of food the city has to offer.
Future Plans: In the upcoming academic year, Aravinth will continue his research in the Economics department, focusing on investigating water pollution levels and the corresponding water legislation. Additionally, he will be working in the cardiology laboratory at the Geffen School of Medicine, utilizing molecular biology research techniques to study therapies aimed at enhancing post-heart attack repair. Following his undergraduate studies, Aravinth intends to further his education by pursuing an MD (Doctor of Medicine) and an MBA (Master of Business Administration) in a medical school dual degree program. Aravinth's aspiration is to blend his interests in medicine and healthcare to initiate meaningful change and improve access to care for patients, regardless of their socioeconomic status.
What this scholarship means to me? I feel honored and so thankful to have been chosen for the Venu and Ana Kotamraju Endowed Scholarship. I would like to extend my deepest gratitude to Mr. and Mrs. Kotamraju for their incredible generosity, which has given me confidence to continue to seek opportunities to gain tools that I can use to make a positive impact. This scholarship not only alleviates financial burdens but also inspires me to continue to learn and grow. I am truly appreciative of the chance to pursue my educational goals with the assistance of this scholarship, and I am committed to making the most of this privilege to achieve my aspirations.