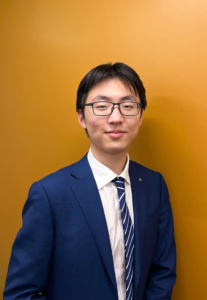 Biography: Yiyang is a rising junior at UCLA, majoring in Business Economics and Statistics and Data Science. He is an international student from Jinan, China. At UCLA, Yiyang has been keeping a good academic record in all his classes. Beyond classes, Yiyang has a wide range of hobbies and interests that allow him to embrace diverse community engagements. He serves as the vice president of Chinese Bruin Union, and is in charge of its newly-established academics department, where he plans to connect more academic and professional development resources on campus to the Chinese international student community. In the past two years, Yiyang is also a member of the UCLA Esports team, where he plays Hearthstone along with his two other genius teammates in UCLA Blue team. They have together reached octa-finalists in Hearthstone Collegiate Masters in 2022. In summer 2023, Yiyang served as the invited judge of the 2023 Debate and Speech National Championship that took place in Kunshan, China. Yiyang's hobbies include swimming, playing badminton, and watching movies. He is also particularly interested in cooking recently.
Future Plans: Yiyang is currently searching for 2024 summer internship opportunities in accounting or financial advisory. After graduating from UCLA, he is planning to firstly gain some work experience in either financial advisory or statistical consulting to fully utilize his educational background of double-major in Business Economics and Statistics and Data Science. He wishes to gain some hands-on experience and deeper understanding in the world of finance and statistics, and he also plans to take this time to complete the CFA exam. After two to three years of working, he plans to pursue a Master of Finance degree to learn more about quantitative finance, and in the long-run pursue a career in private equity investment or asset management.
What this scholarship means to me? I am truly honored to receive the Harold R. Mortenson Endowed Scholarship fund. I would like to firstly express my sincere gratitude to the donors for their benevolent generosity and unwavering belief in my potential. I cannot emphasize more on how important and inspiring this scholarship means to me. As an international student with high tuition fees, this scholarship would undoubtfully help me to alleviate the financial burden that pursing higher education often entails, and allows me to focus more on my personal growth. Beyond the financial support, this scholarship serves as a validation of my academic aspirations and serves as a profound motivator to continually strive for excellence in my studies at UCLA. I would like to thank the donors again for their support.