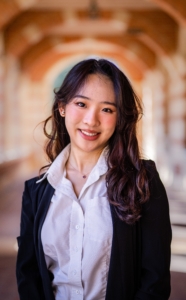 Biography: Sukie Yeung is a rising junior majoring in Business Economics, with plans to minor in Statistics and Data Science Engineering. Originally from Vancouver, she is committed to driving impact through her pursuit of management consulting. On campus, Sukie serves as Vice President of the Global Research Consulting Group, partnering with local and international non-profits to promote Environmental, Social, and Governance (ESG) initiatives. Furthermore, she interns with the LA Metro Chapter of Ascend to amplify AAPI representation in the realms of entertainment, finance, and business services. Outside of her professional pursuits, Sukie is an avid snowboarder and enjoys tackling challenging piano pieces.
Future Plans: This Fall, Sukie is focused on pursuing opportunities within management consulting and related fields, enthusiastic about the potential to make a meaningful impact through her work. In the long term, she intends to build a career within the consulting industry and remains open to the possibility of an MBA after a few years of work experience.
What this scholarship means to me? I am incredibly humbled and grateful to Donald Lipschutz and donors for their generosity and support. This scholarship means a lot to me, as it not only eases the financial burden of college, but also serves as a recognition of my dedication to my education and perseverance in the face of challenges. The scholarship embodies the incredible network of alumni and mentors who are invested in my success; I am committed to making the most of this opportunity for my personal growth and to continue to make meaningful contributions to the UCLA community.