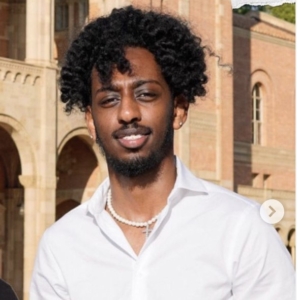 Biography: Nebiyyu Bekele is a dedicated individual with a passion for finance and economics. Originally from Addis Ababa, Ethiopia, Nebiyyu is currently a rising junior pursuing a degree in Business Economics and Statistics with a concentration in Value Investing. His academic journey has ignited a desire to work in the field of finance, particularly in investment banking, where he seeks to harness his analytical skills and market insights to make a meaningful impact. With a long-term goal of transitioning into private equity, Nebiyyu is excited to leverage his education and experiences to contribute to the dynamic world of finance and investment.
Future Plans: After graduating from UCLA, Nebiyyu plans to work in investment banking for a span of two years. This initial phase of his career will serve as a strategic move to gain invaluable experience and, equally importantly, accumulate the necessary financial resources to fund his journey to business school. Investment banking offers an ideal platform to hone his financial analysis skills, learn about various industries, and develop a strong foundation in finance. Following his two-year stint in investment banking, Nebiyyu aspires to transition to the buy side of finance, specifically aiming for roles in private equity or hedge funds. These fields align perfectly with his long-term career goals. He is drawn to the dynamic nature of these industries, where strategic investments and financial acumen drive decision-making is prominent. This transition represents the next step in his professional development, where he will apply the knowledge and skills acquired during his time in investment banking to contribute meaningfully to the world of private equity or hedge funds. Ultimately, Nebiyyu sees this path as a stepping stone towards achieving his career aspirations in the financial industry.
What this scholarship means to me? Receiving this scholarship is incredibly meaningful to me. It's a practical boost that will help ease some of the financial stress that comes with pursuing higher education. With rising tuition and living costs, this scholarship will cover essential expenses, like textbooks and part of my tuition, which will allow me to focus more on my studies and less on financial concerns. Moreover, this scholarship serves as a valuable affirmation of my efforts. It tells me that someone out there believes in my potential and is willing to support me on my educational journey. It motivates me to continue working hard and strive for success in my academic pursuits. This scholarship is a practical and motivational aid that will make a significant difference in my education, and I am genuinely appreciative of this opportunity.