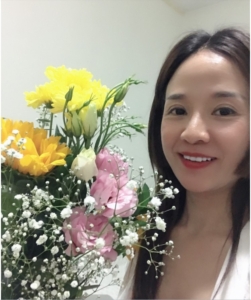 Biography: Lydia Sun was born in China to a family of local farmers. She grew up in a small village and learned the value of hard work and kindness. She left her village in order to get higher education. In 2018 Lydia moved to America, and she attended community college as well as worked full time. Lydia was accepted to UCLA for the 2022 academic year. Lydia Sun, an enthusiastic and dedicated individual, embarked on her academic journey at UCLA with an unwavering passion to excel in the fields of business and accounting. Her diverse work experiences in both domestic and international e-commerce reflect her leadership prowess and her ability to implement efficient business strategies. Beyond her academic pursuits, Lydia's proactive stance, complemented by her versatile skill set, positions her as an invaluable asset in any professional setting. Rooted in a dedication to perpetual advancement, Lydia's aspiration to achieve CPA licensure underscores her unwavering commitment to pursuing excellence and embracing ongoing growth.
Future Plans: Lydia Sun, a dedicated student, envisions a future that marries her passion for accounting and her drive to excel. As she progresses through her studies at UCLA, Lydia's determination is evident in her decision to postpone graduation from after the completion of the 2023 winter quarter to spring 2024 in order to undertake additional accounting coursework in preparation for her CPA licensure. After completing her studies, Lydia aims to secure internships in prestigious firms like one of the big 4 companies and to gain practical experience and expand her skill set. With a keen interest in data analysis, marketing, and customer service, Lydia aspires to bring a holistic approach to her career, focusing on optimizing business strategies and financial practices. Her commitment to professional growth is evident in her dedication to achieving CPA certification 225 units and courses by September 2024.
What this scholarship means to you? Receiving the Prof. Harry Simons Endowed Undergrad. Scholarship for the Study of Accounting is an incredible honor and privilege for me. This scholarship means not only financial assistance but also a recognition of my dedication to pursuing a career in accounting. As a Business Economics major student with a minor in Accounting at UCLA, this scholarship will alleviate some of the financial burden associated with pursuing higher education. It will enable me to focus more on my studies and extracurricular activities that contribute to my professional growth. I am truly grateful for this opportunity, and it motivates me to excel in my studies and future career as a CPA.