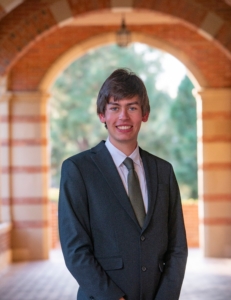 Biography: Luke Garlick is a rising junior in the Economics department at UCLA. He is committed to his studies and executive position in the Bruin Capital Management investment club on campus. The past two years have taken him far from home, both physically and metaphorically. Hailing from a small rural town nestled in the redwoods of far Northern California, moving to LA was a rapid change of pace and climate, as well as a step into an unknown but much anticipated future. Growing up in a small, economically disadvantaged community, he didn't fully realize how little he understood of the world and its possibilities. Moving to LA, and living, studying, and working with a diverse body of students from around the world, often with drastically different life experiences, and experiencing fantastic professors has made Luke realize how big the world is and that he can be part of helping to shape that world.
Future Plans: Luke is looking forward to applying for internships and programs throughout this academic year and the following summer. His plans include continuing to love and embrace his economics classes, pursuing a Data Science Engineering minor, and continuing his leadership role with his club. His interest in the economy and its intersection with the investing world will lead Luke throughout his college career and internships into the post-grad world. After graduation and the completion of internships, Luke is hoping to work for companies in the AI/autonomy field and possibly pursuing a future MBA. His ultimate aspirations lie in solving large economic, social, and environmental issues. Issues like how to retool workers for new roles in the A.I. future, how to build and expand our population centers without straining services, and how to build out infrastructure so that vast natural resources like wind and solar energy can be not only harvested but transmitted.
What this scholarship means to me? I cannot express enough gratitude for receiving this scholarship. After a hard two years of acclimating to college life, studying, and getting involved in my UCLA community, receiving this scholarship is really exciting, and my family is thrilled and proud. This significant financial contribution will help me continue my academic career, a rewarding but rather expensive endeavor, but one greatly aided not only by the generosity of Mr. Donald Lipschutz's family and loved ones but also by the fabric of UCLA. This scholarship means much more to me than just helping to pay for school. Studying and stressing for a big test, rushing to finish assignments to not miss out on valuable time with friends and family, and making tough prioritizations are all costs of investing in your academics. These are costs that I do not take lightly and sometimes they feel like a very personal sacrifice for a grade entry in a database. This scholarship helps lighten that load. Instead of feeling regretful for missing out, I feel seen.