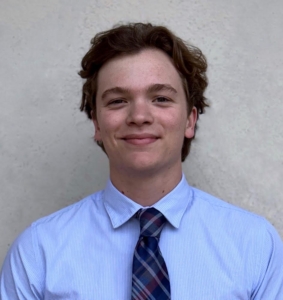 Biography: Lawrence is a rising senior majoring in Business Economics with a minor in Accounting. He participated in chess club and Greek life on campus. He was born in Kingston upon Thames, a smaller town about 10 miles from London. After three years in England, his family moved to Bordeaux in the south west area of France. He spent nine years in France before moving to Fairfield, California where he lives now. He grew up playing Tennis and Soccer and also had interests in surfing, chess, video games, and golf. In high school, Lawrence became interested in economics and accounting and wanted to pursue a career in the Bay Area. This is also when his admiration of UCLA began and it became his goal to attend the university. After spending a summer as a finance intern for a wine company, Lawrence spent the following summer working as an audit intern for KPMG in Sacramento. Next fall he will be returning with KPMG in the audit practice in San Francisco.
Future Plans: After graduating in Spring quarter, Lawrence hopes to spend some time in Europe visiting family and exploring the southern countries. In the Fall, Lawrence will be working for KPMG as an Audit Associate in the San Francisco office. He will plan to pursue a career in public accounting but hopes one day to be the CFO of a large corporation. Having spent much of his childhood in Europe, Lawrence would also like to spend some time working in London or Paris. He has also really enjoyed his time traveling in south east Asia and would love to return for work if the opportunity arises.
What this scholarship means to me? Receiving this scholarship will help me focus on furthering my education by lowering the stress involved in paying for college. Studying economics at UCLA had been a dream of mine throughout high school so I am very grateful and thankful for this opportunity. This acknowledgement will only motivate me more in my last undergraduate year at UCLA and will hopefully propel me into my career after graduation. I am honored to be this year's recipient and hope to further the values that Harold Mortenson held throughout his time spent at UCLA. In my three years here, I have been exceptionally pleased with the time and effort the professors of the Econ department put into their students as well as the passion they teach with. They have always motivated me to give it my best in class. Receiving this scholarship means a lot to me as I feel my hard work has been rewarded as I look forward to completing my degree this upcoming year.