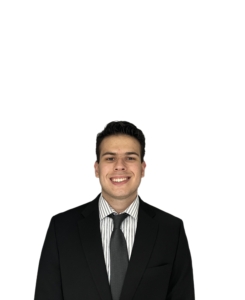 Biography: Jacob Banuelos is a driven fourth-year Business Economics major. He was raised in Calabasas, California, and is pursuing a career in the Financial Services industry as a Wealth Manager and Analyst. Currently, Jacob has been involved on campus by volunteering with Volunteer Income Tax Assistance at UCLA and working at University Credit Union as a Member Service Specialist. In his spare time, Jacob loves to go to the gym, play chess, and partake in creative writing.
Future Plans: Upon graduation, Jacob plans to join a Wealth Management firm as a Wealth Advisor, and plans on specializing in alternative investments such as private equity and venture capital. In the long run, he wants to eventually garner the skillset and knowledge to establish his own Wealth Management firm dedicated to serving members of the lower-income community. Through his future experience, he aims to develop a holistic financial philosophy that he can utilize for the benefit of individuals from all walks of life.
What this scholarship means to me? It is a great honor and privilege to be accepted for the Donald Edward Bragg & Diane Sims Bragg Scholarship. I come from a single-parent household, and as the oldest of three brothers, I know that financing our higher-level education will prove challenging. This award goes a long way towards not just my own goals, but my younger brothers', goals of being able to graduate with the weight of student loan debt being as minimized as possible. I am dedicated to using this award to help continue my academic success, and to set as high of a standard for my younger brothers as they enter university and the real world as a whole. Thank you so much to the UCLA Economics Department for granting me this prestigious award and for making all of this possible!