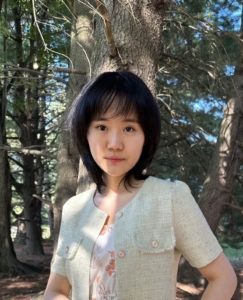 Biography: Iris is an uprising third-year Economics major also pursuing a second major in Linguistics & Computer Science. She has held a wide variety of policy and legal writing experiences, from writing for the Daily Bruin and BLIS law review, holding board positions on two pre-law societies, to interning at a law firm. She is currently involved in a multitude of research projects and labs, both independent and professor-led, where she explores the economic and social impact of communication and language technologies. Much of her research projects involve social data collection and database creation, and she is grateful for the guidance of the involved professors and mentors. In addition, Iris is an active member of student government (USAC), serving on the Finance Committee, CSC, and chairing funds, where she is passionate about allocating funds to support students' academic ambitions and service efforts. Outside of her school activities, Iris is a singer, enjoys reading/collecting classical Western literature, goes on late-night runs, and loves baking with her mother.
Future Plans: As she has a deep love for school and learning, following her graduation from UCLA, Iris plans to attend grad school or law school and further pursue her educational interests. She hopes to research and further develop her knowledge about the intersection of behavioral economics, language policies, and law. She also strives to develop her communication and technical skills so that she can one day educate policymakers on emerging technologies that lack regulations and develop applications that improve technology-human intercommunication, labor conditions, immigrant education/welfare, and economic productivity. Iris sees herself traveling often and living in many places in the future, where she looks forward to immersing herself in new cultures, learning new languages, and expanding her global and political perspective.
What this scholarship means to me? I am eternally grateful for the generosity of the Wark Family, and no words can truly express how honored I am to be a recipient of the Robert D. & Margaret A. Wark Memorial Scholarship. Not only will this scholarship provide financial support so I may dedicate more of my time towards my academic endeavors, but this scholarship also provides great motivation for such academic endeavors. I am happy that the UCLA Economics Department and the Wark Family have awarded me and recognized my professional ambitions, and I will do all I can to honor their recognition, strive for success, and serve my community.