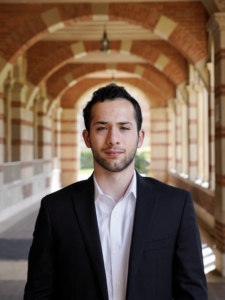 Biography: Haig Simitian is a fourth-year student at the University of California, Los Angeles, majoring in Business Economics with a minor in Accounting. Born and raised in Glendale, California, Haig enjoys spending his time playing pickleball, going to the gym, and trying new restaurants. His coursework has provided him with a well-rounded breadth of econ knowledge from a variety of subtopics, while each accounting class continued to add additional complexity and intuition to his understanding of fundamental accounting principles and their application in the business world as a whole. During his time at UCLA, he served on the executive boards of the Business-Law and Investing Society, Beta Alpha Psi Accounting Honor Society, the Bruin Stock Group, and the Armenian Pre-Law Student Association.
Future Plans: After graduating from UCLA, Haig will start his full-time job at Deloitte in their Business Tax Services practice as a Tax Consultant. He intends to pursue a CPA license within his first year working there. Haig also plans to attend law school in the near future to further his education and enhance his career opportunities.
What this scholarship means to me? I am profoundly grateful for the honor of being selected as a recipient of the Gumbiner Savett Inc. Endowed Undergraduate Prize. As I reflect on my journey, I am reminded of the transformative impact education has had on my career goals and aspirations. The generosity of this award will allow me to make further use of the endless learning opportunities at UCLA and is an inspiration to keep working hard to make my career goals come to fruition.