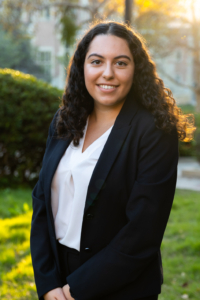 Biography: Emily Roshan is a third-year student at UCLA majoring in Business Economics with a minor in Accounting. She is from San Diego, California. On campus, Emily works as a Reader/Teaching Assistant for upper-division accounting courses. She is also involved in campus organizations including LeGal at UCLA, Bruin Women in Business, Alpha Lambda Delta and Phi Eta Sigma Honor Societies, American Cancer Society, and Bruin Bites Food Magazine. In her free time, Emily enjoys baking, going to the beach, and spending time with friends and family.
Future Plans: This summer, Emily was working at a financial consulting firm and will continue working for them during the year. Through this work experience, Emily has further explored her interests in accounting, finance, and consulting. Upon graduating from UCLA, Emily plans on applying to law school in order to pursue a career in law.
What this scholarship means to me? I am grateful to have been selected for the Professor Harry Simons Endowed Undergraduate Scholarship for the Study of Accounting. It is truly an honor to be selected by the Department of Economics and Mr. and Mrs. Shapiro. Along with this scholarship relieving me of financial burdens, it has encouraged me to continue working hard and pursuing my studies and passions. Being recognized for my efforts is extremely motivating and I look forward to giving back to the UCLA community.