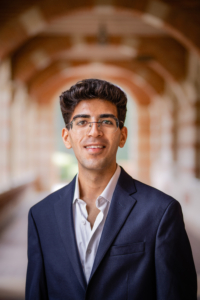 Biography: Anmol Arora is a rising senior majoring in Business Economics and minoring in Accounting at UCLA. In 2022, he was selected to be a William F. Sharpe Fellow. During his time at UCLA, Anmol has gained internship experience in Strategy and Finance roles at both large multinational firms like EY and small startups. Moreover, he has been actively involved with multiple Business student organizations at UCLA like International Bruins in Business (IBB) and Bruin Reserve Bank (BRB), currently serving as the Vice President at both. His experience with consulting local businesses through IBB has driven him to pursue a career in strategy consulting.
Future plans: Post graduation, Anmol will be working in strategy consulting at L.E.K. Consulting in their Los Angeles office. In his initial couple of years, he aims to work with clients from a variety of industries before specializing and finding his niche within strategy consulting. In the long run, he aspires to follow in his parents' footsteps and get an MBA from a top-ranked school like UCLA to further develop his business acumen while fostering a global network.
What this scholarship means to me? It is an incredible honor to have received the Donald Lipschutz Scholarship. I am sincerely grateful to the donors and the Department of Economics Awards Committee. This recognition of my efforts will serve as yet another motivator for me to continue striving toward excellence in all my future endeavors at UCLA and beyond.