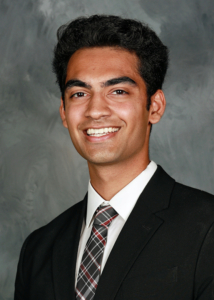 Biography: Ziyan Bhamani is a fourth-year student at the University of California, Los Angeles (UCLA), set to graduate this spring with a major in Business Economics, a minor in Accounting, and a concentration in Value Investing. Born and raised in Camarillo, California, Ziyan was a fan of  UCLA basketball from a young age and would frequently attend games. During his time at UCLA, he was actively involved in several campus organizations, including serving as a manager for the Undergraduate Business Society's Leadership Development Committee. In this role, Ziyan spearheaded a new office hours initiative to provide students with more opportunities to seek advice and mentorship from the society's leaders. Additionally, he was a member of the Student Accounting Society, the Sigma Nu fraternity, and the UCLA Information Technology team. He also completed an internship at the school's Endowment at UCLA Investment Company. Beyond academics and campus involvements, Ziyan enjoys a range of hobbies and interests, including playing basketball, camping, trying new restaurants, and traveling. These activities have allowed him to explore new places and cultures, and he values the perspective they have given him.
Future Plans: After graduating from UCLA, Ziyan Bhamani has exciting plans for the future. He intends to travel around Europe and experience different cultures before starting his full-time job at Boston Consulting Group (BCG) in Los Angeles. As someone who is passionate about learning and trying new things, Ziyan looks forward to continuing to develop his skills and gain new experiences in the field of management consulting. He also plans to attend business school in the future to further his education and enhance his career opportunitie
What this scholarship means to me? Being selected as a recipient of the Gumbiner Savett Inc. Endowed Undergraduate Prize is a truly humbling experience. It is an honor to be recognized for my academic achievements and extracurricular activities, especially by an organization that is highly respected in the business community. This award is a testament to the hard work and dedication I have put into my education, and it is a reminder that my efforts have not gone unnoticed. Receiving this scholarship will be immensely helpful in supporting my academic pursuits and helping me achieve my goals. It will provide me with the financial stability I need to focus on my studies and pursue opportunities that will allow me to grow both personally and professionally. I hope to use my education and experiences to make a positive impact on the world and inspire others to do the same. This scholarship will enable me to continue this path and give back to the community that has supported me throughout my time at UCLA.