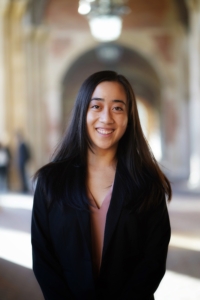 Biography: Sonia Yan is a third-year student majoring in Business Economics and Statistics with a concentration in Value Investing. At UCLA, she serves as the External Vice President for UConsulting, an undergraduate consultancy focused on increasing accessibility to the management consulting industry, and Bruin Asset Management, a student-run investment organization. Outside of school and work, Sonia enjoys reading, visiting art museums, and hiking.
Future Plans: This summer, Sonia will be interning in Lazard's Technology Investment Banking Group in San Francisco. She is interested in pursuing a career in finance and is looking forward to learning more about the industry.
What this scholarship means to me? I am incredibly grateful and honored to receive the Donald Lipshutz Scholarship. This scholarship will help me work towards my academic and professional goals with less of a financial burden and motivates me to work even harder to honor the support I've received from the donor and the Economics Department. I hope to pay it forward by giving back to the UCLA community in the future.