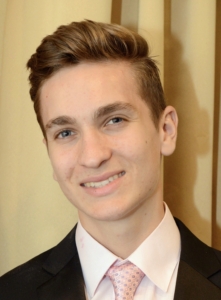 Biography: Samuel Sankisov is a Fourth-Year Undergraduate student at UCLA majoring in Business Economics and minoring in Entrepreneurship. Originally from Walnut Creek, CA, he graduated from Northgate High School in June 2019. At UCLA, Samuel has been an active member of several notable on-campus organizations, including Bruin Investment and Trading (BIT) Group, TAMID Group, and the Undergraduate Entrepreneurs Association (UEA). He has also interned at Grant Private Wealth Management, TELEO Capital, Band of Angels, and Pacific Western Bank.
Future Plans: After his graduation in June 2023, Samuel plans to begin his career at Carta, a San Francisco-based technology company that specializes in capitalization table management and valuation software. In the coming years, Samuel hopes to join one of the Bay Area's top Venture Capital firms, get his MBA degree, and potentially start his own company one day as an entrepreneur himself. 
What this scholarship means to me? It is truly an honor and a blessing to be the recipient of the 2023 John J. Peterson Scholarship! By reducing the amount I need to spend on tuition to complete my Bachelor's Degree at UCLA, this scholarship will allow me to focus on completing my undergraduate coursework to the best of my ability, graduate, and get a head start on paying off my student loans. It will also help me save up for my future MBA tuition.