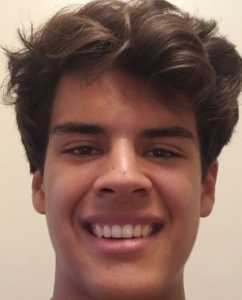 Biography: Samuel Sanchez is a third year Business Economics major from Riverside, California. Being a UCLA fan since childhood, Samuel enjoys being able to study everyday at his dream and school and always makes the most of any opportunity he can. He is currently the captain of the UCLA Track and Field club as well as a mentor of the UCLA Mentorship Program. Away from campus Samuel enjoys snowboarding, screenwriting, and playing music in two bands.
Future Plans: For the upcoming summer, Samuel will be participating in an economics work-study internship program in Prague, Czech Republic.  Being paired with a company for three months will allow him to gain hands-on experience and knowledge of real life scenarios that will allow his potential in the United States to skyrocket. With the experience gained during the internship, Samuel hopes to be able to join a sports front office and work every day in an environment that he loves.
What this scholarship means to me? Being able to be the recipient of such a generous blessing in the name of two wonderful people, Ralph and Shirley Shapiro, truly is an honor and a privilege. This scholarship is more than money to me, it is a sign that I am on a path filled with potential and that there are those out there who believe that I have the ability to make a difference, which is what I truly plan on doing. This award truly does give me the opportunity to make the difference I have always dreamed of making.