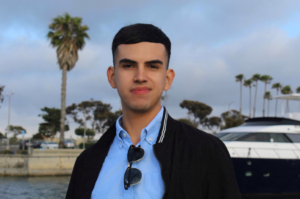 Biography: Geovanni Llerenas is a driven and passionate fourth-year Business Economics major at UCLA, with a double minor in Chicanx and Global Studies. As a first-generation college student from Los Angeles, Geovanni recognized early on that higher education was a pathway to fulfilling his dreams. His academic journey has been shaped by his lifelong fascination with business, which he has been fortunate enough to explore in depth during his time at UCLA. With a particular interest in data science, accounting, and game theory, Geovanni is always seeking new ways to challenge himself and expand his skill set. Beyond his academic pursuits, Geovanni enjoys staying active by hiking and exploring the city of Los Angeles, as well as nourishing his passion for entertainment by attending movie premieres and visiting theme parks.
Future Plans: In terms of career plans, Geovanni is excited about the prospect of working in data science, either within a company or as an independent consultant. Given this interest, Geovanni believes that pursuing internships in the field would be a great way to gain experience and build a network of connections. Additionally, considering law school could provide valuable skills and knowledge that could be applied to a career in data science. Furthermore, Geovanni is also passionate about real estate and sees it as a potential side hustle that could provide additional income and opportunities for personal and professional growth. Whatever path Geovanni ultimately chooses, he is confident in his ability to succeed and make a positive impact in his chosen field.
What this scholarship means to me? This scholarship has been of immense help to me as it has allowed me to take off some of the financial burden that comes with pursuing higher education. Additionally, it has also allowed me to immerse myself in my coursework without the added burden of financial stress. This scholarship means a great amount to me as it represents a belief in my potential and a recognition of the hard work that I've put in to get to the position that I am today. Knowing that someone else believes in me and is willing to invest in my future has been extremely empowering and has given me a newfound motivation to keep pushing for better. Therefore, I am extremely grateful for Donald Edward Bragg & Diane Sims Bragg for awarding me this scholarship and most importantly, believing in me.