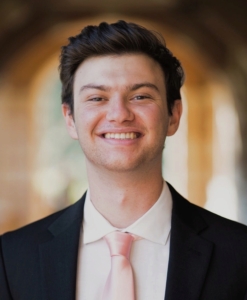 Biography: Gabriel Rich is a fourth-year student at UCLA studying Economics and Political Science with Concentrations in Value Investing and International Relations. Growing up in San Diego, UCLA has always been his dream school since his dad also graduated from here in 1995. Gabriel's main involvement on campus consists of serving as President of the Undergraduate Business Society, the largest student organization at UCLA. Beyond this, he has served in various leadership positions with Bruin Value Investing, Bruin Ventures, and Sigma Nu Fraternity. Outside of his studies, Gabriel enjoys hiking, going to the beach, trying new foods, and playing soccer.
Future Plans: Gabriel will be working as an Investment Banking Analyst at Credit Suisse in their Financial Sponsors Group in New York City after graduation.
What this scholarship means to me? I am immensely grateful to have received the Robert D. & Margaret A. Wark Scholarship. I would like to thank the Wark family for their sincere generosity and contribution towards my education. This scholarship will positively impact my academic career, as I will be able to focus more on my coursework, extracurriculars, and community service efforts during my final year here at UCLA. In the future, I hope to pay it forward by supporting younger generations of Bruins who follow.