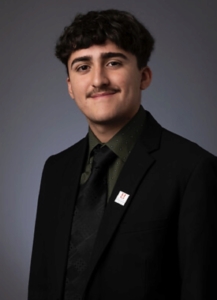 Biography: Ernesto Favela Corral is a third-year undergraduate at UCLA Majoring in Economics. Born and raised in Victorville California, Ernesto knew about the opportunities that come with living in California. Being a first-generation college student has fueled Ernesto to discover the potential of such a school as UCLA. While maintaining an active schedule, Ernesto's passion for Baseball has been able to flourish. He currently plays baseball for the UCLA Club Baseball team and interns as a baseball operations manager for UCLA's official baseball team. While maintaining an entrepreneurial mindset, Ernesto has been able to develop and run his very own ecommerce store where he is able to connect classroom taught principles into his store. In the past Ernesto interned at Armanino LLP where he was able to explore the accounting industry. During his free time, one can find Ernesto following various sports, pursuing a healthy lifestyle, and learning as much as possible.
Future Plans: Upon graduation, Ernesto plans to potentially pursue a career in accounting with a focus in business management. Ernesto will work for Armanino in the West Los Angeles office, where he can best be exposed to clients and be able to support their needs for business management. Ernesto hopes to learn from professionals and build a strong foundation in hopes of clearly establishing a successful career. Due to Ernesto's strong passion towards baseball and sports, he hopes to one day stem into a position where he can work in sports or help manage wealth of athletes. Ultimately however, Ernesto plans to maintain his entrepreneurial work ethic and work on building his own company. This scholarship has enabled Ernesto to pursue his dreams and goals.
What this scholarship means to me? I am extremely grateful and honored to be the recipient of the Robert D. & Margaret A. Wark Memorial Scholarship. This scholarship will relieve me of financial stress and allow me to give my complete attention to my academics and build a strong foundation. I also plan to establish more connections and pursue more extracurriculars that will mold me into a professional. This scholarship has given me the opportunity to strive and keep pursuing my dreams. This is such a pivotal time in my lifetime, and I hope to properly honor my donors as they have recognized my ambition in the classroom and my professional goals.  I cannot wait to pay this forward to young individuals in the future with goals of pursuing a professional career just like me.