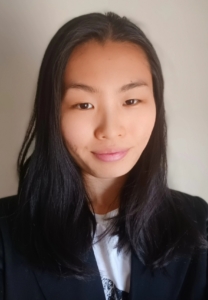 Biography: Elisa Xu is a third year undergraduate student at UCLA majoring in Economics and minoring in Accounting. She has been working as a Digital Marketing Intern at UCLA School of Law since her freshman year, which sparked her interest in the impact of communications and other related business activities on brand image and reputation. Throughout her college career, Elisa has actively participated in various extracurricular activities, holding key positions such as Chief Marketing Officer of Bruin Capital Management, Director of Fashion at Business in Entertainment Association, and Editor at Bruin Political Review. In her free time, she enjoys pranking her friends, binge-watching TV shows (her favorite is Better Call Saul), scrolling through memes, thinking about philosophy, listening to punk rock music, and working out when she feels like it. 
Future Plans: Elisa's future plans involve pursuing a career in strategic sales and advertising, inspired by her experience interning at Amazon last summer. Upon graduation this summer, she will be returning to Amazon as a full-time Account Representative. Elisa is excited to combine her comprehensive education in economics, accounting, and business concepts to contribute to the business development and operations associated with technological innovation.
What this scholarship means to me? I am incredibly honored to be selected as a recipient for the Professor Harry Simons Endowed Undergraduate Scholarship for the Study of Accounting. This scholarship will allow me to focus more on my academic and career goals without worrying about the financial burden. I am deeply grateful to my donors for their inspiring generosity. Knowing that others believe in me and my potential is incredibly motivating, and I feel more committed than ever to pursuing my passions. In the future, I hope to pay it forward by supporting others on their own paths to success. This scholarship is an incredible opportunity and I am thankful for the chance to make the most of it.