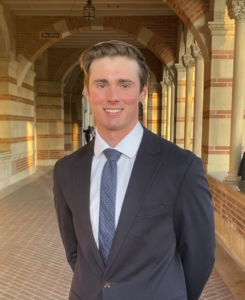 Biography: Daniel Day is a Southern California native who is a second-year student majoring in Business Economics with a minor in Accounting at UCLA. He works as a Grader/Proctor/TA for Mgmt. 1A, 1B, and 120A. He was part of the UCLA Deloitte FanTAXtic team that placed 3rd nationally for UCLA. Daniel is also involved with many other student organizations including the Lambda Chi Alpha Fraternity, the Beta Alpha Psi Accounting Fraternity and a project manager for Bruin Ventures which provides business analysis to companies. Daniel also stays active by using his tennis skills as a formerly nationally ranked junior tennis player by volunteering as a practice hitter for the UCLA Women's team.
Future Plans: Daniel is excited to be joining a small private equity firm as an analyst during his Summer 2023 internship. After his 3rd year at UCLA, he will join Deloitte as an intern in Audit and Assurance during the Summer 2024. During both internships he looks forward to not only learning new skills but also to acquire first-hand business experience regarding a variety of industries in order to better assess his future long term business interests.
What this scholarship means to me? It is my honor to be a recipient of the Donald Lipshutz Scholarship for the 2022-2023 academic year. I am extremely grateful to the Donald Lipschutz Scholarship Donor and the Department of Economics Awards Committee for providing me with this opportunity. This scholarship not only provides significant financial assistance, but it also provides a welcomed acknowledgement of my past achievements and encouragement to work harder going forward.