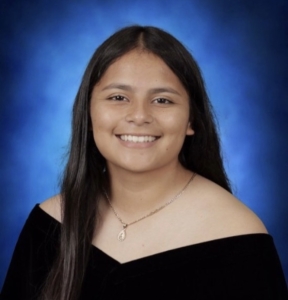 Biography: Anajely Moreno is a first-generation Latina student at UCLA. She is a fourth-year majoring in Economics and minoring in Accounting. Born and raised in Northeast Los Angeles, CA, she knew she wanted to stay local, so she decided to pursue a higher education at UCLA. While she focuses on her academics, she continues to be involved in her community as a mentor and coach for youth female soccer players. Her biggest motivation is found through her mother, Julia Rojas, who has sacrificed everything so she can give her kids an opportunity for a higher quality education. In her free time, she enjoys spending time with her loved ones, mastering her mom's Mexican dishes, and exploring new hiking trails.
Future Plans: Anajely Moreno will be staying in her hometown, Glassell Park, after graduation. She has interned with PricewaterhouseCoopers for two summers consecutively during her undergrad. She will be starting full time at PricewaterhouseCoopers at the Downtown, Los Angeles office as an Audit Associate under the Financial Services sector. While working at her dream career, she will be studying to obtain her CPA. In the long run, Anajely hopes to play and establish a recognizable role within her community as a mentor for students to pursue a higher education.
What this scholarship means to me? I am beyond grateful and thankful to be a recipient of the Robert D. & Margaret A. Wark Memorial Scholarship.  This scholarship will help alleviate any financial stress within my last year of undergrad so I can dedicate more time towards my academics and extracurricular activities. This scholarship further encourages me and confirms the hard work that I have put in my academics. This scholarship also serves as an inspiration to continue to work hard so I can one day pay it forward.