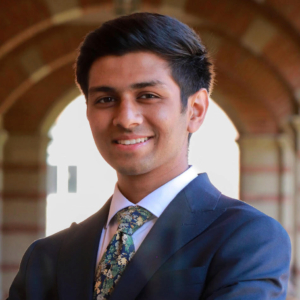 Biography: Akshat Mittal is a junior who is majoring in Business Economics with a minor in Data Science Engineering. He is a social impact entrepreneur from New Delhi, India and has scaled multiple social startups before. He launched and sold his first company at the age of 13 and has a passion for solving problems that impact millions of people. He is now working on a startup called FavorX to build the world's largest favor exchange economy based on reciprocity. His father, a consultant by profession and an entrepreneur by heart, always taught him to choose the unorthodox, non-traditional, high-risk high-reward path in life and his mother, a teacher, always taught him the value of a good education. At UCLA, he has been an active member in business clubs like Sharpe Fellows, Ascend, and International Bruins in Business, and is also a board member on Bruin Entrepreneurs. He has also started dabbling in the blockchain VC industry recently, helping multiple funds with deal flow. Akshat is also very interested in Formula 1 and boxing and he loves going on hiking trips. He defines success as the ability to work hard every day, chasing a huge goal, and being exhausted before going to bed very night.
Future Plans: Akshat believes that his purpose in life is to work on startups and impact people by creating something meaningful. So, in order to gain more experience, he worked in various different fields of business. He has worked in accounting (KPMG in Summer '21) and consulting (EY Parthenon in Summer '22) earlier, and is now set to explore his passion for finance through an investment banking internship at J.P. Morgan in their tech investment banking team in San Francisco. Through these experiences, he aspires to learn the language of the corporates and wants to know how huge conglomerates are built and run so that he can use those learnings later in all other aspects of his life.
What this scholarship means to me? I am extremely grateful to the Harold R. Mortenson Endowed Scholarship Donor and the Economics department for this scholarship. As an international student with a high tuition fee and little to no other scholarships available, getting this scholarship proves that effort doesn't go unnoticed. This scholarship has definitely helped in taking some financial burdens off me and my family and inspired me to work harder and give back to the UCLA community.