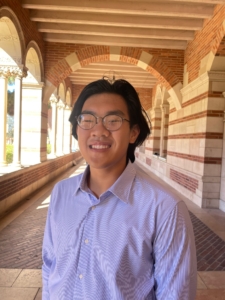 Biography: Adam Chan is a third-year Business Economics major with a minor in Accounting. He has achieved the rank of Eagle Scout, the highest honor in Boy Scouts, culminating in a community service project that saw the donation of a vegetable garden and greenhouse to his local women's shelter. He has been a member of UCLA Club Swimming for his entire time at UCLA. When not studying for classes or working, Adam enjoys reading books that his friends recommend, going to the gym, baking, and hanging out with his friends.
Future Plans: This year, Adam currently has internships at multiple public accounting firms in the spring and summer in Los Angeles and San Francisco respectively. Next year, he hopes to be accepted to law school in order to pursue a career in corporate law, aided by his background in accounting. Eventually, he hopes to also pursue an MBA during his law career.
What this scholarship means to me? I am thankful and honored to have been chosen for the Professor Harry Simons Endowed Undergraduate Scholarship for the Study of Accounting this academic year. With this scholarship, I hope to be able to concentrate more on my academic success without having to worry about my financial situation. I am extremely grateful for the department and the donors to have considered me for the award and for their continued support in my academic and professional career.