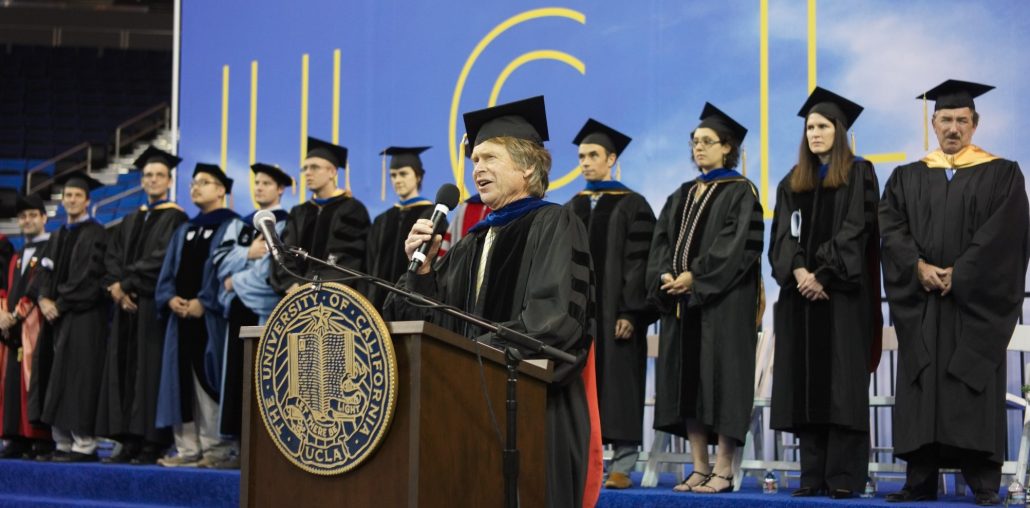 Commencement, 2017
The 2017 Department of Economics Commencement Ceremony will take place on Saturday, June 17, 2017 at 5:30 p.m. in Pauley Pavilion.
The keynote speaker will be Ms. Judy Bruner '80.  Please see her biography below the asterisks.
The ticket ordering period for the Economics Ceremony is April 28, 2017 – May 19, 2017.  Please visit MyUCLA during this timeframe to order your tickets.  Your first four (4) guest tickets are complimentary.  These four tickets need to be ordered.  Additional tickets beyond the four are $12 each. We allow students to order up to thirty (30) guest tickets and waitlist ten (10) additional tickets.  Please note:  The students participating in the Economics Ceremony do not need to order tickets for themselves. 
For inquiries regarding ordering more than forty tickets, please contact the Department of Economics Undergraduate Counselors via the MyUCLA Message Center.
Students who have already completed a short post-graduation survey and who have picked up a name card from 2263 Bunche Hall will be expected to arrive at 4:45 pm at the UCLA Tennis Center's Gate B, which is located adjacent to Bruin Walk.  Students who have not completed the survey and who have not picked up a name card by Tuesday, June 13, 2017 will be expected to arrive at 4:30 pm to the Ceremony.
Instructions regarding the career survey and name card will be forwarded via the Undergraduate Economics SSC CCLE website approximately three weeks prior to commencement.  Please make sure that you have added yourself to this website in order to receive commencement communication.
Questions about the Department of Economics Commencement will be handled through the MyUCLA Message Center.
For a degree and graduation checklist – review the Guide to Graduation 2017
Information about the Commencement Ceremonies for the College of Letters & Science can be found on the website below:
http://www.college.ucla.edu/commencement/
The Commencement Ceremonies for the College of Letters and Science will take place on Friday, June 16, 2017 in Pauley Pavilion.
There will be a 2:00 p.m. and a 7:00 p.m Ceremony.
Information about commencement ceremonies and events for the entire campus can be found on the website below:
https://www.commencement.ucla.edu/
******************************************************************
Judy Bruner '80
Judy Bruner serves on the board of Applied Materials, Brocade Communications Systems, Rapid7, and Varian Medical Systems, as well as on the board of the Computer History Museum. Her career has been focused in the high technology industry with her most recent operating role being executive vice president of administration and chief financial officer of SanDisk Corporation from 2004 to 2016, when SanDisk was sold to Western Digital.  At SanDisk, a global leader in flash storage solutions, Bruner was responsible for finance, investor relations, information technology, legal and facilities. She previously served on SanDisk's board for two years.
Prior to joining SanDisk, Bruner was senior vice president and chief financial officer of Palm, Inc., a provider of handheld computing and communications solutions. She was responsible for executing the company's separation from 3Com Corporation and its IPO in 2000. Bruner previously held senior roles at 3Com and Ridge Computers, and began her career at Hewlett-Packard. She earned a B.A. in Economics from UCLA and an M.B.A. from Santa Clara University.