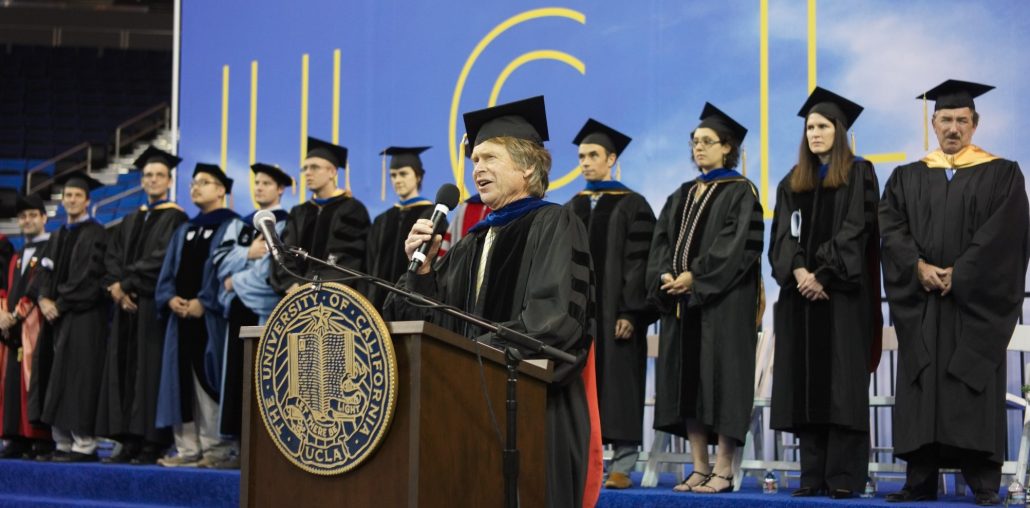 Commencement, 2018
The Department of Economics Commencement Ceremony will take place on Saturday, June 16, 2018 from 5:30 P.M. to 7:30 P.M. in Pauley Pavilion.
Pauley Pavilion will open to guests at 4:30 p.m.
The keynote speaker for the ceremony will be Mr. Ronald Havner.  Mr. Havner received his BA in Economics from UCLA in 1979.  He is the Chairman and Chief Executive Officer at Public Storage Inc.
Students will be able to order tickets for the ceremony via MyUCLA beginning in late April (Date TBD).
Your first four (4) guest tickets are complimentary.  These four tickets need to be ordered.  Additional tickets beyond the four are $12 each. We allow students to order up to thirty (30) guest tickets and waitlist ten (10) additional tickets.
Please note:  Each student participating in the Economics Ceremony does not need to order a ticket for him/herself. 
Once tickets are ordered, students can pick them up at the UCLA Central Ticket Office (at the end of the James West Alumni Center).  The phone number is 310-825-2101.  For a campus map, please visit: http://maps.ucla.edu/downloads/
Students will be contacted after Week 9 of the Spring quarter to complete a short, online exit survey.
After completing the survey, students can pick up a name card.
Instructions regarding the exit survey and name card will be forwarded via the Undergraduate Economics SSC CCLE website.  Please make sure that you have added yourself to this website in order to receive commencement communication.
If you have any questions about the Economics Commencement Ceremony, please contact us via the MyUCLA Message Center, which can be found at:  http://economics.ucla.edu/undergraduate/contact-us/
For a degree and graduation checklist – review the Guide to Graduation 2018
Information about the Commencement Ceremonies for the College of Letters & Science can be found on the website below: